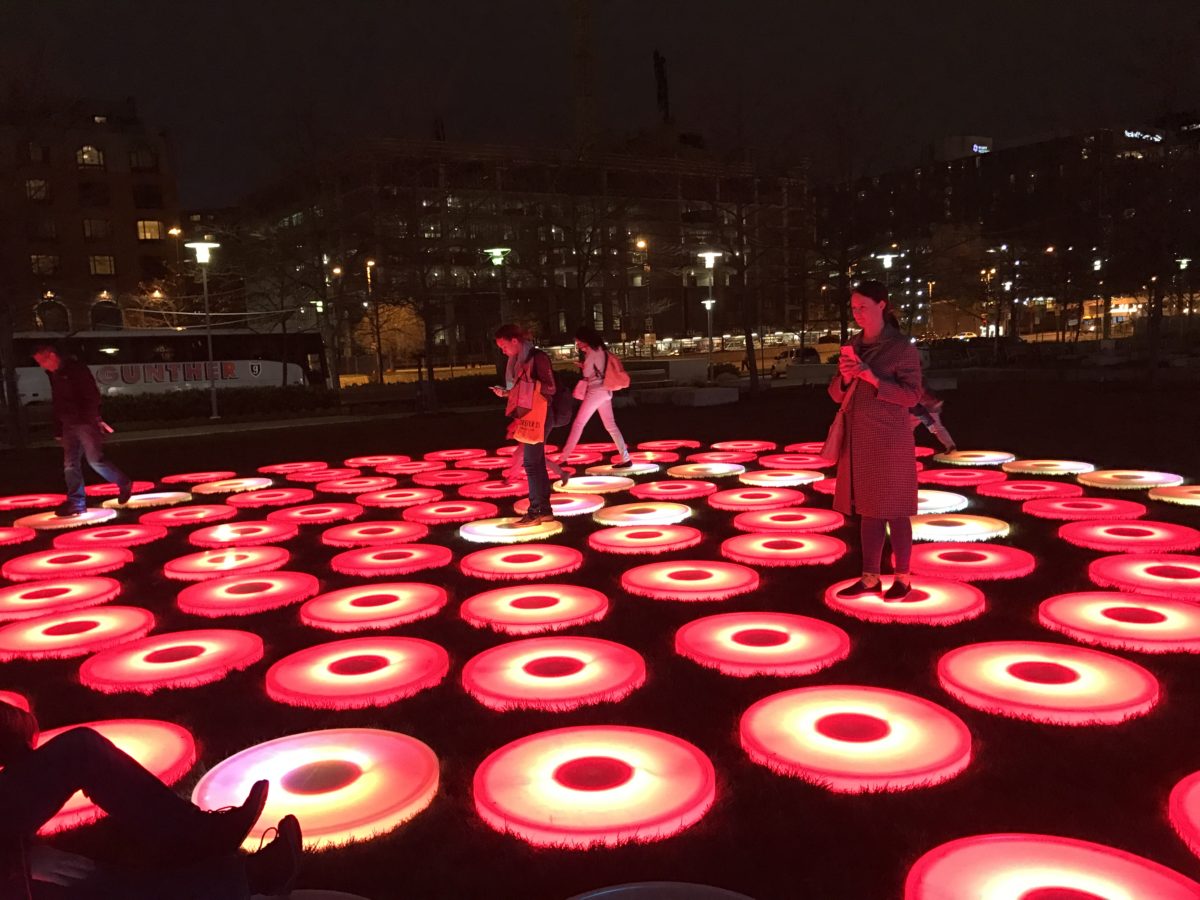 By Stephen Babcock / Technical.ly Baltimore
Jun. 25, 2019 4:22 pm
Last fall, Baltimore Office of Promotion and the Arts CEO Donna Drew Sawyer announced that the Baltimore Book Festival and Light City will be combined in 2019, and dates from both will shift to early November.

On Tuesday, a press conference held at the Parkway Theatre brought the events for the "festival of light and literature" further into view, with a first look at speakers and performers who will be at the combined event, as well as what will be available in the neighborhoods beyond the harbor.

A theme for the Nov. 1-10 event was also named: Brilliant Baltimore.

"Hosting large scale events helps bring Baltimoreans and visitors together in one wonderful celebration," said Mayor Bernard C. "Jack" Young. "These types of cultural events are an economic driver for Baltimore city."

The light art that's been featured at past Light City events will return to Inner Harbor for the fourth year, along with events like a drone art show and fireworks finale.

Of the 20 sculptures on display, Festival Director Kathy Hornig said eight were made by local artists. Some of the works chose from 125 applications include:

Masters of the Edifice, by Ellis Marsalis III, which shows Baltimore city in light and sound with lightboxes of the city's murals
Loop, a retro-futuristic machine by Ekumen, which creates animated fairy tales
Radiant Flux, by Kevin Blackstone, which explores light in day and night through solar reflections and moonbeams
Waterlight Graffiti,by Antonin Fourneau, which features a wall of thousands of LEDs that are illuminated when they touch water

And for its 24th year, following Book Festival tradition, author talks will also return around the harbor. The literary salon is being held in IMET's Columbus Center, which hosted [email protected] City over the last three years. Headliners include:

Carla Hall, author of Carla's Soul Food, with opener Black Girls Cook, of Baltimore
Hill Harper, an actor from "The Good Doctor" who is also a bestselling author
Dave Cullen, who has covered the school shooting epidemic over 20 years through books about Columbine and Parkland
Sam Talbot, a chef, philanthropist and advocate for the Type 1 diabetic community
Barbara Bourland, Baltimore-based author of "Fake Like Me"
Chris Wilson, Baltimore-based social entrepreneur and social justice advocate
Ibrim Kendi, author of "Stamped from the Beginning: The Definitive History of Racist Ideas in America"

Along with combining the two events, this year's festival also features a broader partnership with the Enoch Pratt Free Library, which has run the children's stage at the book festival.

The event is looking to draw attention to "Neighborhood Lights" with events around the city, and Pratt Library branches will serve as the setting for the celebration in eight of the neighborhoods, Pratt Library CEO Heidi Daniel said. It'll kick off Nov. 1 at Central Library, which is scheduled to reopen by then following a large-scale renovation project.

"Each of the Neighborhood Lights parties will be unique to the community it's in, with local performers and programming," Daniel said.

Partners on that effort include drone workshops from local UAV photographers and educators at Global Air Media and HASA's Silent Disco in The Stacks. One light installation will be "Words That Light," a work by Peter Quinn that turns solar-powered message boards used to communicate about road work, and turns them into poetry.

BOPA is also offering Neighborhood Lights grants of $5,000 to community members who want to create an installation. Applications are available at the Light City website.